Ericsson F3607/022 - 3G/GPS/HSPA Mini PCI Express Card - 7.2Mbps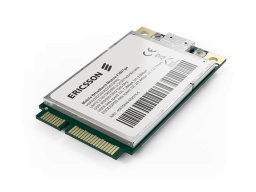 Download Datasheet
F3607gw is an advanced mobile broadband module supporting an enriched and cost effective internet experience. The F3607gw has enhanced functionality, such as wake-on wireless, reduced power consumption and GPS.

This version (/022) supports the UMTS frequencies 900/1900/2100 and is thus very well suitable for Europe and Asia with limited support for the US (1900).
End-of-life
This product has reached
end-of-life and can not be
ordered any more.
We suggest Huawei MU609 Mini PCI Express
as replacement for this module.
UMTS Bands

B1 (2100)
B2 (1900)
B8 (900)
Antenna Interface

IPEX U.FL
Driver Support

Linux
Windows
Operating Temperature Range

-10 °C – 65 °C
Ericsson Windows Firmware R2 Updater 2015-09-24 16:32:49
The delivery contains official candidate firmware for F3607gw and F3307 R2.
Download
Read more »
Back
Products