Techship Starter kit ZTE ME3630 U1A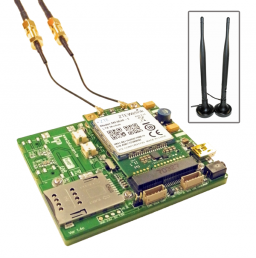 The Techship Starter kit ZTE ME3630 U1A is a complete easy-to-use testing platform for ZTE ME3630 U1A. This kit is sold including technical FAE-support.

The test board of the kit has a SIM-slot as well as LEDs for power and connectivity. The board can be powered either through external power or via the USB cable.
The starter kit contains 1 pcs ZTE ME3630 U1A mPCIe for the North American market, 2 pcs u.fl.-SMA-M interface cables, 2 pcs antenna mounts and 2 pcs swivel antennas. Observe that the external power plug has to be completed with a 220V-USB plug transformer.
Form Factor

mPCIe - full size
Interface to host

mini USB port
Back
Products